Directions From Maplewood, MO to  Our Maserati Dealer
Get on I-64 W in Richmond Heights From Big Bend Blvd 

Head North Toward Manchester Avenue 

Turn Right Onto Manchester Avenue 

Turn Left Onto Big Bend Blvd 

Use The Left 2 Lane To Turn Left To Merge Ont I-64 

Follow I-64 W, I 270 N, and I-70 W to Saint Charles. Take Exit 225 From I-70 W 

Merge Onto I-64 W 

Use The Right 2 Lanes To Take Exit 25 To Merge Onto I-270 N Toward Chicago 

Use The 2nd From the Right Lane To Take Kansas City / I-70 Exit Toward St. Louis 

Keep Left At The Fork To Continue ON Exit 20B Follow Signs For I-70 W/Kansas City and Merge Onto I-70 W 

Take Exit 225 toward Cave Springs / Truman Rd 

Take Veterans Memorial Pkwy to Your Destination in St. peters 

Arrive A Napleton Mid Rivers Maserati

NAPLETON'S MID RIVERS MASERATI NEAR MAPLEWOOD
  Napleton Mid Rivers Maserati is the premier Maserati dealership in the Midwest, and it's located just 25 miles away from Maplewood, Missouri. It's a town that's south and east of us, but we're practically neighbors! We realize there is plenty to do in Maplewood, but sometimes it's good to run away from home. That's where we come in!

  A visit to Napleton's Mid Rivers Maserati will allow you to see and test drive all of the Maserati lineup, including the Ghibli, Quattroporte, GranTurismo, Levante and MC20. We maintain an impressive collection of pre-owned luxury cars for every taste and desire. Our Mid Rivers Maserati sales experts are trained to make your luxury and sports car-buying decisions as easy as possible. Here we can discuss the benefits of leasing your next Maserati and advise you of the latest pricing and financing solutions.  

Getting here is easy! Simply plug us in on your smartphone and follow the route directions for savings! We know one of the ways to get here involves taking Historic Route 66. This way, you can get your kicks and a new Maserati at the same time!   At Napleton's Mid Rivers Maserati, We don't just sell cars. We bring the Maserati luxury lifestyle to you. Whether you seek the Levante, the MC20 Super Car, Quattroporte, Ghibli, or GranTurismo, you will know what we mean when you step inside!   In addition to the Maserati brand, we stock many other high-end gently-cared-for vehicles. We service them, too. It becomes clear that you won't just show up for the sales. You will come for the expert service as well.  

We are right around the corner from the Mid Rivers Mall, the area's largest regional shopping center. After dropping your Maserati off for service in the morning, take advantage of some time for a dose of retail therapy. You and your credit or debit card will never feel a closeness like this again. When you are finished, your car will be too. We can't think of a more efficient way to spend your day! Your service advisor can tell you about shuttle service between Mid Rivers Maserati and the mall as soon as you drop off your vehicle.
A LEADING MASERATI DEALERSHIP SERVING THE ST. LOUIS, MISSOURI REGION.
At Napleton's Mid Rivers Maserati near Maplewood, Missouri, our staff is trained to be the best in everything we do. Whether it's service, sales, leasing and financing, we are up to the task.  We have been in business for more than 90 years. Second to none since 1931 isn't just a snappy motto. It's a great way to do business.
A GREAT SELECTION, ALL AT GREAT PRICES!
At Napleton's Mid Rivers Maserati, we offer some of the most competitive pricing for dealerships in the St. Louis Gateway Arch region. We work hard to provide you with the best deals possible on a new Maserati vehicle. Stop in today at Mid Rivers Maserati, where we are proud to be part of the Ed Napleton Automotive Group.

The Napleton Auto Group has been serving the town of Maplewood, Missouri, for years, but our Maserati dealership is one of the newest at our Mid Rivers campus. Our sales and service pros near Maplewood are driven to exceed your expectations. Our customers are members of our family. Let us make believers out of you, too! Don't forget that purchasing from Napleton's Mid Rivers Maserati helps support the community in which we live. We invite you to come in and see why we are a great place to buy, sell and maintain your vehicle near Maplewood, today.
Special Prices For Maplewood Maserati Shoppers Sign Up Now
Our Maserati Dealer also serves:

Hours
Monday

9:00am - 9:00pm

Tuesday

9:00am - 6:00pm

Wednesday

9:00am - 9:00pm

Thursday

9:00am - 6:00pm

Friday

9:00am - 9:00pm

Saturday

9:00am - 6:00pm

Sunday

Closed
🔥 Maplewood Maserati Dealership Shopper Questions !
If you're looking for the best of all  the Maplewood Maserati dealers have to offer, you've come to the right place. Here at Mid Rivers Maserati we offer great selection of new and used Maserati cars and SUVs for sale. We also offer plenty of great Maserati deals on all of your favorite makes and models.  visit our inventory page.
Maplewood Maserati Dealership
Located in the heart of Missouri, Maplewood Maserati would like to invite new car shopppers to come experience our new roster of luxury vehicles. We are located near Route 66, just minutes away from Maplewood's top attractions including the Gateway Arch Museum, Busch Stadium , and the City Garden  Sculpture park. 
Our local Maserati dealership near Maplewood offers a wide range of luxury vehicles for sale including the new Maserati Ghibli, Levante, Quattropore, and GranTurismo. Whether you're looking for a new or used SUV, sedan, coupe, sports car, or convertible, there's something here for everyone. We even offer Maserati model upgrades such as the Maserati Gransport and Granlusso models.  If that's not enough, we also offer  excellent lease deals on all of our new and used Maserati vehicles for sale. Come find the best luxury car for sale near you at our local Maplewood Maserati dealership near you. We look forward to helping everyone in Maplewood Missouri 6314 area find a new or used vehicle.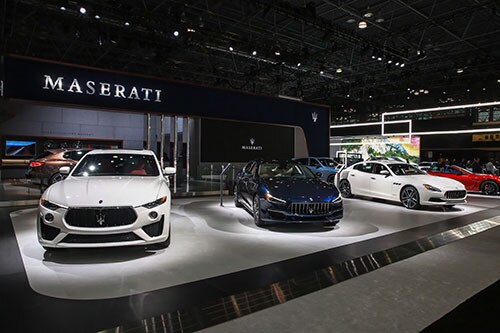 Aside from lease deals, we also offer amazing finance deals on new Maserati vehicles. If you're looking for the best way to experience the finer things in life without compromising the things that you love most, visit our local Maplewood  Maserati dealership. Not only do we offer a prize winning selection of exotic cars and luxury SUVs,  we also offer fantastic Maserati deals. Chances are, if you shop at our local Mapewood Maserati dealership, we can help you find a better deal at a better price on a new luxury car. It's clearly a better way to elevate your standards. Don't you deserve to enjoy the finer things in life. If so, make your way down to our new car dealership near you.
If you're considering a  used luxury car for sale near you, it's time to visit our local Maplewood Maserati dealership. We offer a wide range of
used luxury cars
including 2018 and 2017 Maserati Models. We also carry a huge selection of luxury auto brands. You name it, we've got it in our used car inventory.  As if that's not enough, we also offer plenty of used car deals on all of your favorite models. You're going to love what we have in store for you on our used car lot. Don't shop anywhere else for a used luxury car until you see what our local Maplewood Maserati dealership has in store for you.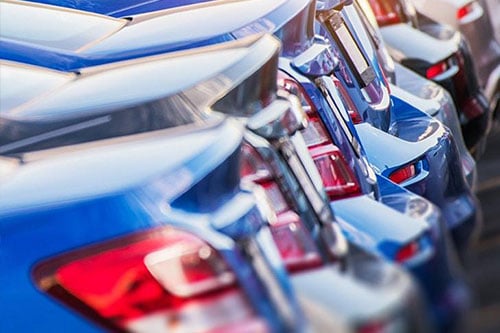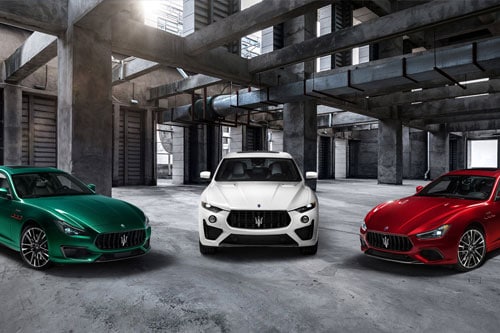 Shopping for a new
Maserati lease near Maplewood, MO
? Not sure where to start? Check out our new Maserati lease deals. We offer exclusive Maserati lease specials and incentives to luxury car shoppers in Maplewood.  Whether you're looking to lease a new Maserati Ghibli, Levante, Quattroporte, or GranTurismo, we've got you covered. Come explore our  new Maplewood Maserati inventory, today.