MASERATI GRANTURISMO CONVERTIBLE LUXURY SPORTS CAR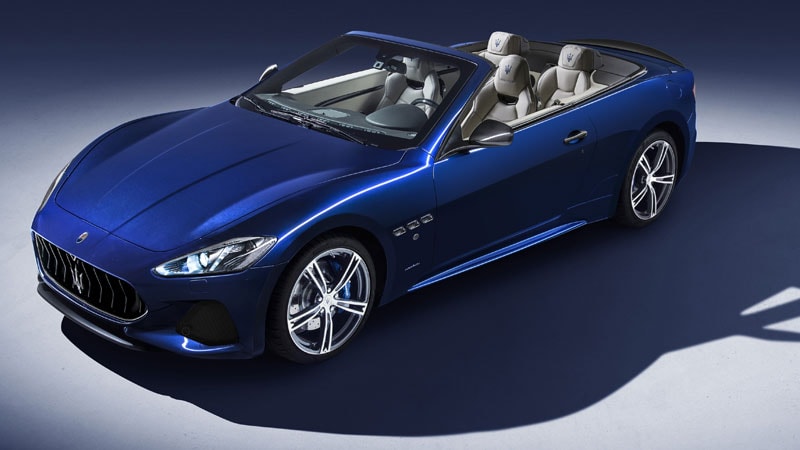 With the original concept of providing luxurious, personalized high-speed transportation in a stylish, al-fresco fashion that only the Italians can do, the Maserati GranTurismo Convertible burst upon the scene. A direct descendant of the 1950's era Maserati A6 Spyder GT, it is one of the most desirable vehicles on the Autostrada, er, highway today. Visit our local St.Louis Maserati for a test drive today. Totally Italian, the new GranTurismo Convertible is flush with high-performance race-bred technology, sleek and captivating good looks, and over the top speed. Featuring an ultra-memorable powertrain with a lusty growl when you squeeze the go pedal, it will be guaranteed to have you taking the long way home. And that's not a bad thing.
THE GRANTURISMO DELIVERS

Under wide-open skies, the Maserati GranTurismo Convertible delivers in luxurious, supermodel-like style. This new Maserati is a piece of art that has managed to roll out of the gallery and onto streets around the World. The iconic Maserati Trident is front and center and is a symbol that only the most powerful Maserati vehicles receive. An aerodynamic front splitter slices through the wind, as sleek bi-xenon headlights with LED daylight running lights taillights (DRL). This Sexy Italian is now available in Maserati GranTurismo Convertible Sport and GranTurismo Convertible MC trim levels.Pulling its design inspiration from Maserati's past, namely the Tipo 60/62 Birdcage Maserati from 1959-1961, the new GranTurismo continues with that fluid-like feeling that has graced cars from the brand for generations. Triple front fender air vents in the front flanks set the GranTurismo apart from just another sport convertible. At the rear, an all-new bumper design offers wrap-around styling and is finished by an under-bumper diffuser tray for rapid air extraction when combined with the front splitter.
Inside Of The Maserati GranTurismo Convertible Luxury Sports Car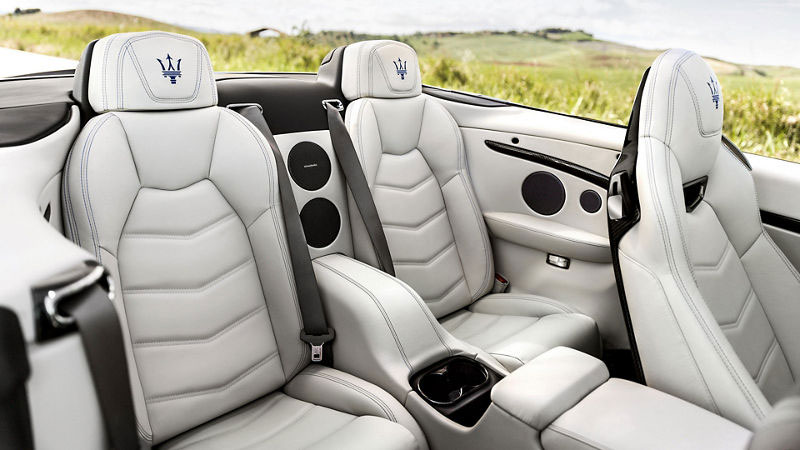 Luxury and Sport is the best combination. Full-stop. The Maserati GranTurismo Convertible brings the two together in all aspects of its being. The fun starts with a steering wheel and gearshift paddle levers wrapped in available Alcantara trim. Allowing you to get a grip on things, it helps the driver to exploit the maximum potential in handling capabilities of the Maserati's formidable suspension.A Maserati is nothing without a Trident logo. There's no worry here because it makes an appearance at several spots inside, including all four hand-stitched headrests. Easy access to the scalloped rear seats is accomplished by the electrically-sliding leather-covered power front seats. In between the two seats, a pull-down armrest complete with two "American-sized" cupholders, courtesy lights and climate controls offer enhanced rear seating comfort. The interior combines to offer the best in sporting comfort to those who appreciate the feeling of being coddled at speed. With a blend of athletic agility and luxurious comfort, not to mention sublime leathers, it will be as though you are wearing an Italian suit, held on by a seatbelt.
UNA MACCHINNA SPORTIVA DINAMICA*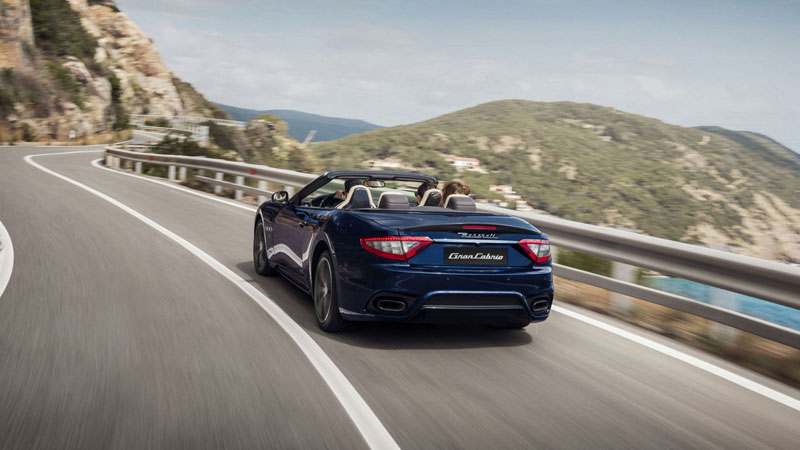 (*A dynamic sporting machine)Sure, it's like the Mona Lisa on four 20-inch Pirelli tires. There's no getting around it: the Maserati GranTurismo Convertible and GranTurismo Convertible MC are rolling pieces of art, but the artistry extends under the hood as well. This topless tourer is equipped with a Maserati-designed, Ferrari-built 4.7-liter naturally-aspirated V8 engine. It produces 454 horsepower and 384 lb-ft of torque.
Beefed up for the extra torque, it has been reinforced using motorsport-derived technology to handle the excessive loads it will likely encounter while at full-roar. It's a smooth performer that is capable of shrieking like a Formula 1 racer heading for the Niki Lauda curve at the Austrian Grand Prix. It's a sound that is only capable of coming from a naturally-aspirated Italian-built V8 engine.  The power is sent to the GranTurismo's ZF MC six-speed auto shift gearbox. Configured with a variety of driving modes ranging from Auto-Normal, Auto-Sport, Manual-Normal, Manual-Sport and ICE modes, they are as subtle or as hard-edged as your driving moods may be.
And the rev-matching feature will only serve to enhance the feeling. Squeeze the throttle while blipping the paddle shift levers when entering a turn and you'll hear them offer a subtle pop and gurgle that will exhilarate on a whole series of emotional levels.Maserati design engineers have gifted the GranTurismo with a near perfect front to rear weight bias by placing the engine slightly behind the front axle. This allows the GranTurismo to achieve a balance that provides great steering, optimal grip and extreme directional stability. The available Maserati Sport Skyhook damping system is an option that constantly monitors road conditions, firming up or softening the suspension as needed.
The GranTurismo Convertible and Convertible MC can surge from zero to 62 miles per hour, in 5.0 and 4.9 seconds respectively, and to a maximum speed of 179 and 181 mph. At the end of it all, this beast is tamable once again, by applying the Brembo high-performance brakes after a spirited run.And we haven't even begun to scratch the surface.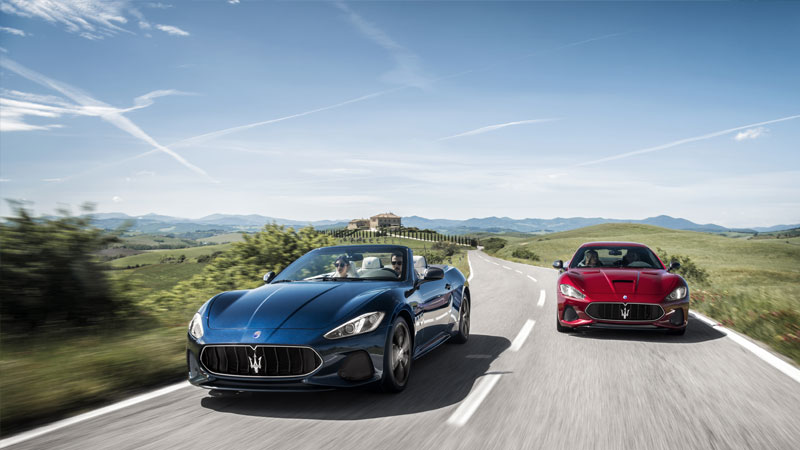 There is so much more to the Maserati GranTurismo Convertible and Convertible MC that makes it one of the most ideal drop top cruisers on the road today. Contact our Maserati GranTurismo Convertible experts at  Napleton Mid Rivers Maserati to have them help find your dream Maserati today.
Make An Inquiry
Hours
Monday

8:00am - 7:00pm

Tuesday

8:00am - 6:00pm

Wednesday

8:00am - 7:00pm

Thursday

8:00am - 6:00pm

Friday

8:00am - 7:00pm

Saturday

8:00am - 6:00pm

Sunday

Closed