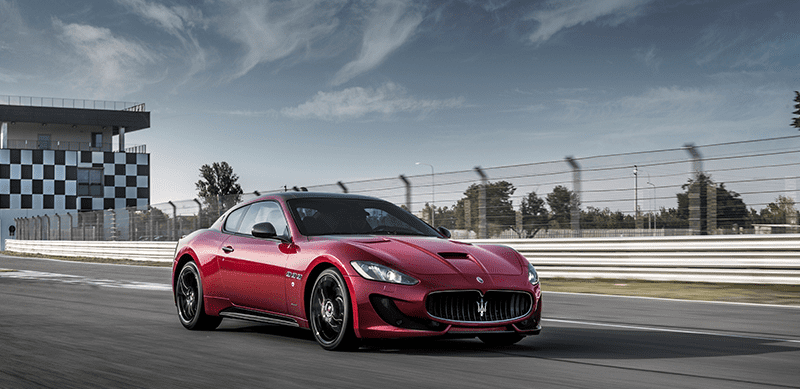 Check Out The Brand New Maserati GranTurismo For Sale in St. Louis

Ready to buy a new Maserati GranTurismo near St. Louis? Great choice! The new Maserati Gran Turismo is extremely popular in O'Fallon, St. Charles , St. Charles, St. Peters, Hazelwood, and surrounding communities near Maryland Heights. And  for a good reason. All Maserati Gran Turismo models come standard with a 4.7-liter V8 engine rated at 384 lb.-ft. of torque. The new  Maserati Gran Turismo also comes standard with a comfortable luxury interior. We are confident. With just one drive. Our new St. Louis Maserati Gran Turismo specials are sure to please new car buyers in St. Charles County.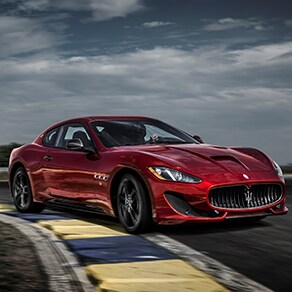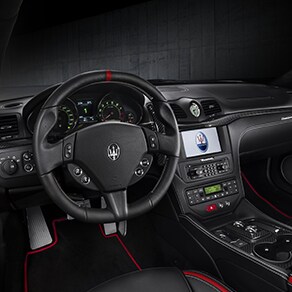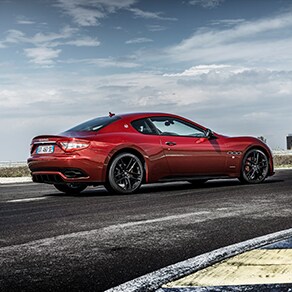 ST. LOUIS MASERATI GRANTURISMO: PUREST FORM OF EXCITEMENT

It was an Italian idea from the very start. Built with the original concept of providing luxurious, personalized conveyance, in style and comfort, all while cruising along the autostrada at high speed, the Maserati GranTurismo was born. A direct descendant of the 1947 Maserati A6 1500 grand tourer, it has earned a reputation that is envied around the world. It can now be yours at Napleton's Mid Rivers Maserati. Following its descendant, the GranTurismo embraces the allure of Italian style that matches up with high-performance race-bred technology and over-the-top power. And then, have we told you about the great throat the Maserati GranTurismo gives? Sometimes it's better than the car's audio system.
2020 Design For Maserati GranTurismo For Sale in St. Louis

This sexy Italian manages to deliver in sheer, audacious and luxurious style. Leading the way is a newly restyled front grille with the chrome Maserati Trident that only the most powerful Maserati models are entitled to. Below the grille, an aerodynamic front splitter cuts through the air, while steely-eyed bi-xenon headlights and LED daylight running lights (DRL) integrate into the bumpers for a dramatic frontward appearance.
From the side, the inspiration is clear: The profile is inspired by that found on the Tipo 60/62 Birdcage Maserati from 1959-1961. From that comes signature styling elements like the triple air vent in the front flanks and a c-pillar featuring the iconic Saetta logo. At the rear, an all-new bumper wraps around and is finished by an under-bumper diffuser for rapid air extraction when combined with the front splitter.
2020 Interior Design For Maserati Gran Turismo For Sale in St. Louis

The Maserati GranTurismo brings luxury inside as well, covering its steering wheel and gearshift paddle levers in available Alcantara trim. It's just the thing to fully exploit the handling capabilities of the Maserati's formidable 4.7-liter V8.
The Maserati Trident logo makes an appearance at several spots inside, including a hand-stitched applique sewn into the headrests. Entering the rear seating area is easily accomplished by electrically sliding the two Poltrana Frau leather-covered power front seats backwards and forwards. A pair of scalloped rear seats offer ample head and leg room. With its central pull-down armrest with two "American-styled" cupholders, courtesy lights and climate controls offer enhanced rear seating comfort.
Overall, the interior offers a compelling mix of athletic motorsport innovation with luxurious comfort. With optional carbon fiber seat backs and three types of available flat-bottomed steering wheels, it is clear this GranTurismo is strictly business, with a very playful side.
2020 Performance Specs For Maserati GranTurismo For Sale in St. Louis

(*The Exquisite Machine)
Sure, the Maserati GranTurismo is a piece of rolling art, but wait. There's more artistry under the hood. This grand touring powerhouse is equipped with a single engine: the Ferrari-built 4.7-liter naturally-aspirated V8 engine. It produces 454 horsepower and 384 lb-ft of torque. It features motorsport-derived technology that can handle the excessive loads it will likely encounter on the road and autostrada alike. It's a smooth performer with commanding throat (when squeezed) that is unleashed like a team of screaming banshees. It's a sound that is only available from a naturally-aspirated Italian-built V8 engine. 
All this power makes its way down the drivetrain towards the ZF six-speed automatic transmission. Configured with a variety of driving modes ranging from Auto-Normal, Auto-Sport, Manual-Normal, Manual-Sport and ICE modes, they are as subtle or as hard-edged as your mood desires.
And the rev-matching feature only enhances the feeling. Blip the paddle shift levers while entering a turn and you'll hear them offer a subtle pop that will exhilarate on several different levels.
A near perfect front to rear weight bias caused by mounting the engine slightly behind the front axle allows the GranTurismo to achieve a balance that provides optimum grip, great steering and extreme directional stability. For added suspension enhancements, there is the available Maserati Sport Skyhook damping system which constantly monitors road conditions and firming up or softening the suspension as needed.
The GranTurismo can surge from zero to 62 miles per hour, in 4.7-seconds to a maximum speed of 186 mph. At the end of it all, you can tame the beast once again, by applying the Brembo high-performance brakes after a spirited run.
We haven't even begun to scratch the surface. There is so much more to the Maserati GranTurismo that makes it one of the most ideal luxury sport vehicles on the road today. Contact our Maserati GranTurismo sales specialists at Napleton's Mid Rivers Maserati to have them help to create your dream Maserati today.
Make an Inquiry