Maserati Quattroporte Key Features
Standard V6 Twin Turbo Engine producing 345 horsepower (Quattroporte GT)
Available V6 Twin Turbo Engine producing 424 horsepower ( QuattroporteModena & Modena Q4) 
Available  V8 engine producing 580 horsepower ( QuattroporteTrofeo) 
ZF Eight Speed Automatic Transmission with Normal, Sport, Off-Road, & Corsa Modes
10.1-inch touchscreen infotainment system with voice activate virtual assistant
Available 10-Speaker  Harman Kardon Premium Audio System & 15-Speaker  Bowers & Wilkins Surround Audio System
Available Intelligent Q4 All-Wheel Drive System
Available Zenga Silk & Upholstery Leather By Ermenegildo Zenga
Maserati Quattroporte at Napleton's Mid Rivers Maserati
Through six generations of history, the Maserati Quattroporte has established a reputation as one of the most luxurious vehicles on the road today. With a long and storied racing history behind it, Maserati made history again in 1963 by introducing the first ever luxury sports sedan to the world at the Turin Motor Show. It was met by resounding acclaim and started a niche they have occupied since.
The concept was simple actually. Take a proven racing engine and place it within the confines of a beautifully designed luxury sedan. The world's first supersedan was born. It was the perfect vehicle for high-speed travel on Europe's emerging network of motorways. With the Quattroporte, grand touring became an experience that always went better in a Maserati.
The new Quattroporte from Napleton's Mid Rivers Maserati is the sixth generation of that grand touring experience. Built by craftsmen in Italy, using the most luxurious leather, fabric, wood trim and more, it is a state-of-the-art example of how good life behind a steering wheel can be.
Start with Race-bred power direct from their V6 and V8 mills. Add a long wheelbase for improved handling, an elegant interior with premium hand-stitched leather, and a full-array of cutting edge driver assistance features. Wrap it up in an elegantly-designed package that is both athletic and gracefully styled. This Maserati Quattroporte GT , available in Quarttroporte Modena , Quattroporte Modena Q4 and Quattroporte TROFEO trim levels, will take you to an entirely new level.
Return To Top >>
POWER PLAY
Power for the Maserati Quattroporte from Napleton's Mid Rivers Maserati comes in the form of two engines with a proud heritage. Direct from Maserati Powertrain at their in Maranello, Italy, these engines are designed to cover long distances at a refined high speed. The Quattroporte Modena and Modena Q4 with all-wheel-drive, get their dynamism from a 3.0-liter twin-turbocharged V6 engine that produces 424 horsepower and 428 lb-ft of torque. It ticks off the time between zero and 62 mph (100 kph) in 5.0 seconds with a top speed of 179 mph.
The Quattroporte TROFEO gets its motivation from a performance tuned 3.8-liter twin-turbocharged V8 engine that makes 580 horsepower and 538 lb-ft of torque. This twin-huffed V8 can achieve 0-to-60 in 4.2 seconds, with a terminal velocity of 203 mph.
Both engines are mated to a ZF eight-speed automatic transmission.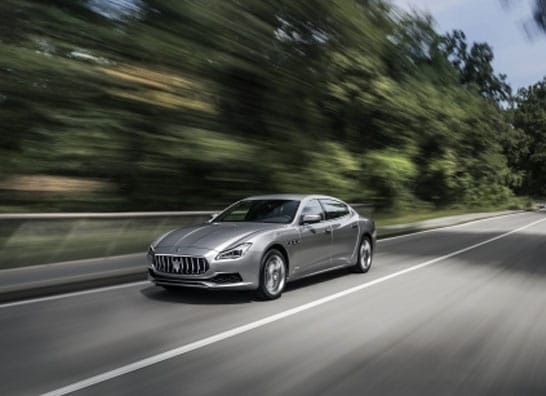 ---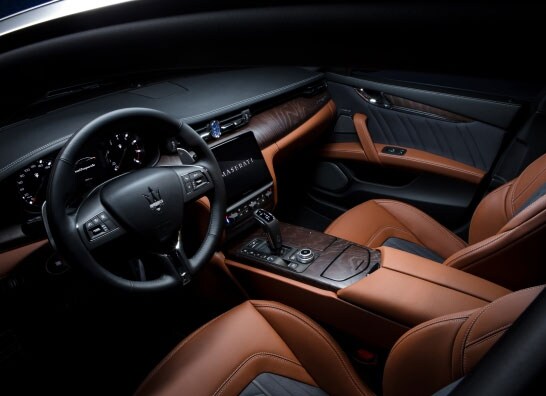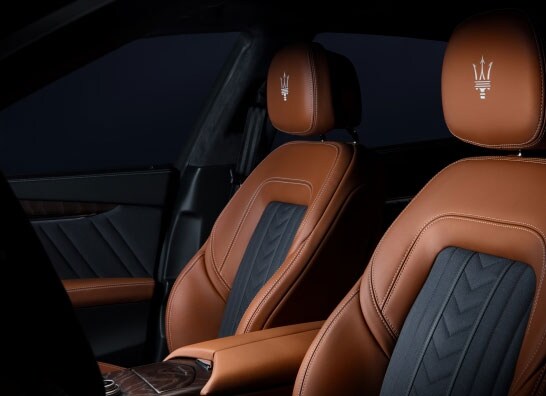 PROFOUNDLY ENGAGING INTERIOR
The luxury inside your Maserati Quattroporte is a matter of taste. Your taste.
From the Maserati Trident logos on the seat headrests, to the carbon fiber or open pore Radica wood trim, to the Maserati Touch Control Plus 8.4-inch infotainment system, the enhancements are plentiful and measure up to one of the most lavish interiors on four wheels. Exceptionally soft Pieno Fiore natural leather is sourced from bulls raised at high altitude, where insects and fencing which could mar the hides are less plentiful, are masterfully tanned over a six-week process yielding the finest dyed leather available.
Extraordinary Comfort
For those wanting to take their luxury a step further, an exclusive Ermenegildo Zegna interior is available with mulberry silk inserts on seats, door panels, headliner and sun visors. Known for their impeccably-styled clothing, the firm designs a silk and leather upholstery scheme that features refinement beyond compare. With its meticulously crafted comfort, technological advancements and pure Italian style, the Maserati Quattroporte gives you the feeling you are traveling in the World's fastest business suit.
---
Available Features
But that's not all. Whether it's controlled by the 7-inch TFT screen and steering wheel controls or the 8.4-inch Maserati Touch Control Plus (MTC+) unit that reigns over the center console, the system operates a Harman/Kardon premium audio system with Clari-Fi. Clari-Fi is an amazing product from Harman that helps restore signal that is typically lost during the digital recording process.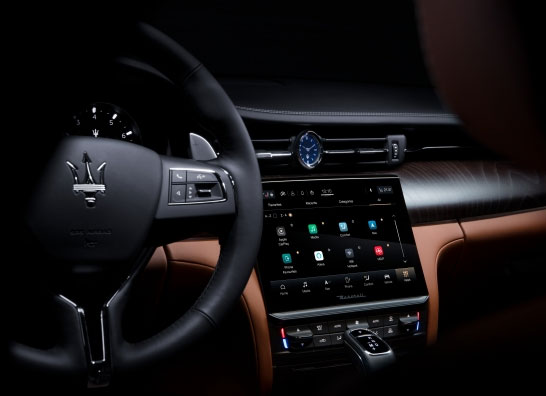 Contact Napleton Mid Rivers Maserati About the Quattroporte
We haven't even scratched the surface. There is so much more to discover on the way to ownership of a new Maserati Quattroporte. Our Maserati specialists at Napleton's Mid Rivers Maserati will be able to help you design your new Quattroporte today. Browse our inventory and stop by for a test drive.