Call Us Today for New Maserati Ghibli Price Quote

St. Louis Maserati Ghibli Sale! Huge 2021 Ghibli Deals  



Maserati Ghibli Dealer Serving St. Louis Maserati Ghibli Deals, Lease Specials, And More
Searching for a new Maserati Ghibli near me? Great news!!  There's a new Maserati Ghibli luxury sports sedan with the power and luxury that you're looking for at Mid Rivers Maserati. And the best part is! We're bringing our new Maserati Ghibli lease deals and specials to St. Louis, O'Fallon, Wentzville, Creve Couer and surrounding St. Louis County communities. Call now and test drive your new Maserati Ghibli today. Trust us you'll be glad you did.
Also, be sure to ask about our new Maserati Ghibli deals and lease specials.We have it all including the new Maserati Ghibli S, SQ4, Trofeo, and a long list of standard packages. Don't wait. Take advantage of our new Maserati Ghibli sales event while supplies last.

We look forward to welcoming everyone to our new Maserati Ghibli dealer. Visit us today at
4953 Veterans Memorial Parkway, Saint Peters, MO 63376
. Our doors are open  from 9:00 am to 9:00 pm Monday, Wednesday, and Friday.We are also open from 9:00 am to 6:00 pm  on Tuesday, Thursday, and Saturday. Of course if you don't want to wait, feel free to call us at 636-329-475, or fill out the form above. 
Act now and receive an exclusive Maserati Ghibli deal. This special offer is only available for a limited time only. This is the Maserati Ghibli deal, you've been looking for. You've waited  long enough.

2021 Ghibli Maserati Specs & Features 
 Models

 Ghibli

 Ghibli S

 Ghibli S Q4

 Ghibli Trofeo

 Engine Layout

 V6
 V6
 V6
 V8
 Horsepower

 345 hp

 424 hp

 424 hp

 580 hp

 Torque

 369 lb.-ft.

 406 lb.- ft.

 406 lb.- ft.

538 lb.- ft. 

 Max Speed

 166 mph

 178 mph

 178 mph

203 mph 

 Acceleration

 5.5 seconds

 4.9 seconds

 4.7 seconds

 4.0 seconds

🔥Popular Maserati Ghibli Questions!
Maserati Ghibli Near Me | Get Directions
Additional Information on Maserati Ghibli Lease, Prices, Specs, Engines, And More

St. Louis Maserati Ghibli on Sale
Looking as sleek as the desert wind it is named for, the Maserati Ghibli for sale near St.Louis is ready to have you experience the ultimate in luxury and performance on the way to your next outing, event or destination. Introduced in 1966, the third-generation Maserati Ghibli continues to embody the brand's hunger to innovate, compete and win. Combining its race-bred performance with a luxurious ride, the Ghibli is the perfect example of luxury with cutting edge agility.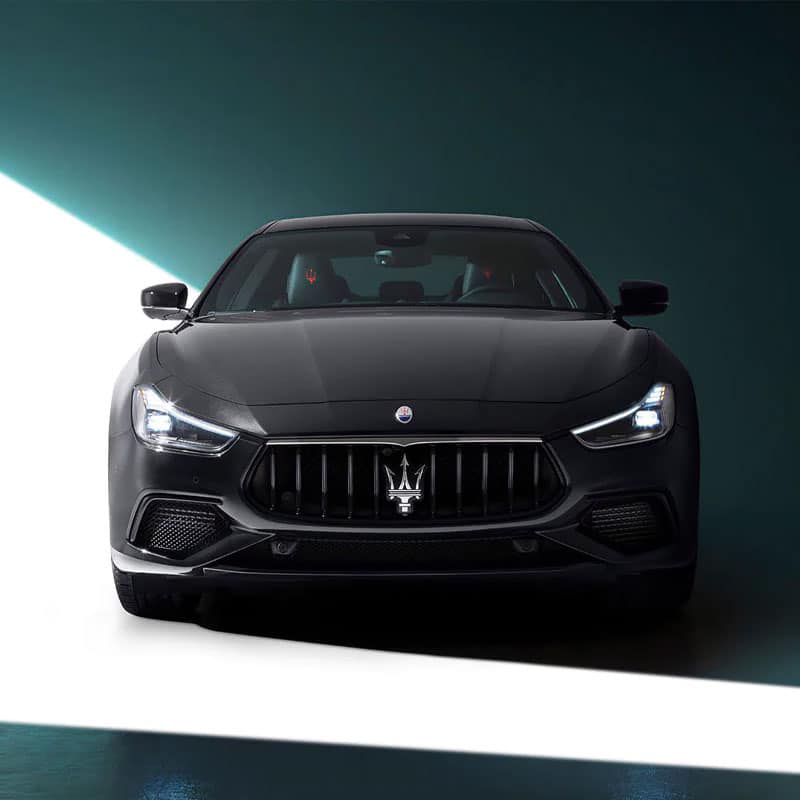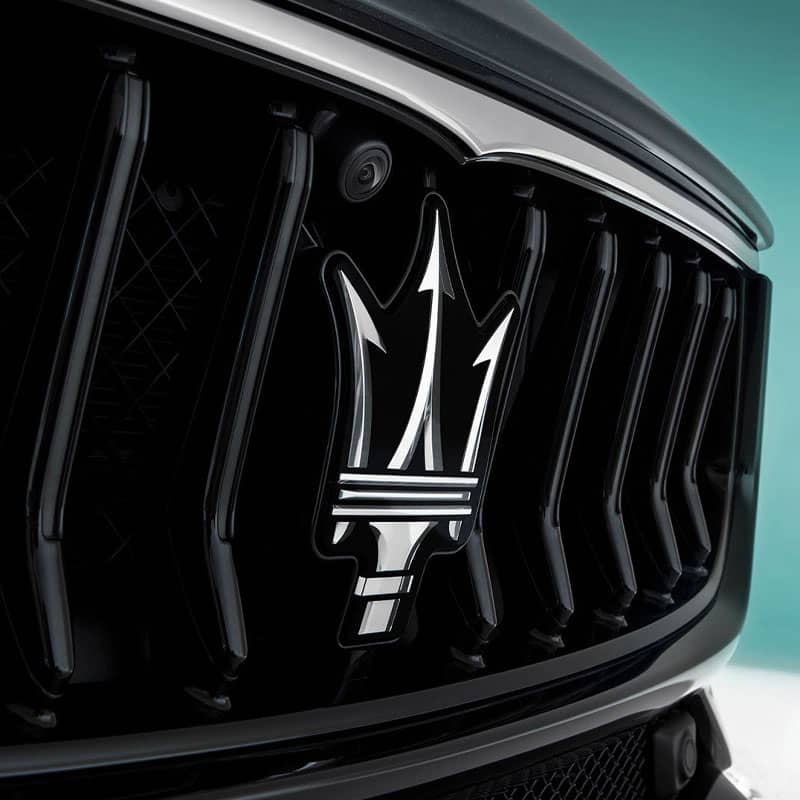 Maserati Ghibli Performance: Power Play

There are three Maserati Ghibli models that are in play. The base Ghibli utilizes a 3.0-liter twin-turbocharged V6 engine that manages to produce  345 horsepower and 369 lb-ft of torque. That mill will produce a zero-to-62 mph time in 5.5 seconds, with a top speed of 166 mph.
Also on hand is the 424 horsepower, 428 lb-ft of torque, twin-turbocharged 3.0-liter V6 that is shared with the Ghibli S and the Ghibli S Q4 (AWD) model.
All three models utilize the ZF eight-speed automatic transmission with limited slip differential. In the case of the Ghibli S, 0-to-62 mph is achieved in 4.9 seconds, with a top end of 178 mph, while the all-wheel-drive version performs the same feat in 4.7 seconds, again with a top speed of 178 mph.
The AWD Drive system operates primarily in a rear drive mode, but when needed, can divert up to 50-percent of its torque to the front axle.
Maserati Ghibli Interior: What It Is

Today's Maserati Ghibli is the perfect example of a four-door     luxury-performance sedan that is perfectly balanced to provide comfort for five and power that will cause the hair on your neck to stand on end. Designed to appear as a four-door coupe, its long nose and short rear overhang display the current state of the art in Grand Touring automobiles. Featuring a luxurious interior with handcrafted leather and silk appointments, it can be optioned with the GranLusso and GranSport trim, each equipped according to your personal preferences. While the GranLusso emphasizes your taste and style, the GranSport accentuates engaging drive dynamics. 

The Ghibli's design features dynamically sculpted curves and gracefully flowing lines that start from the center-mounted Trident logo and flow rearward. At the other end, a stylishly elegant bumper with quad chrome tailpipes finishes the entire look in a manner that only the Italians can master.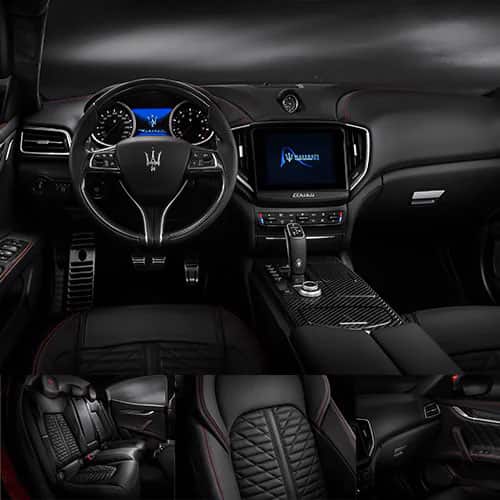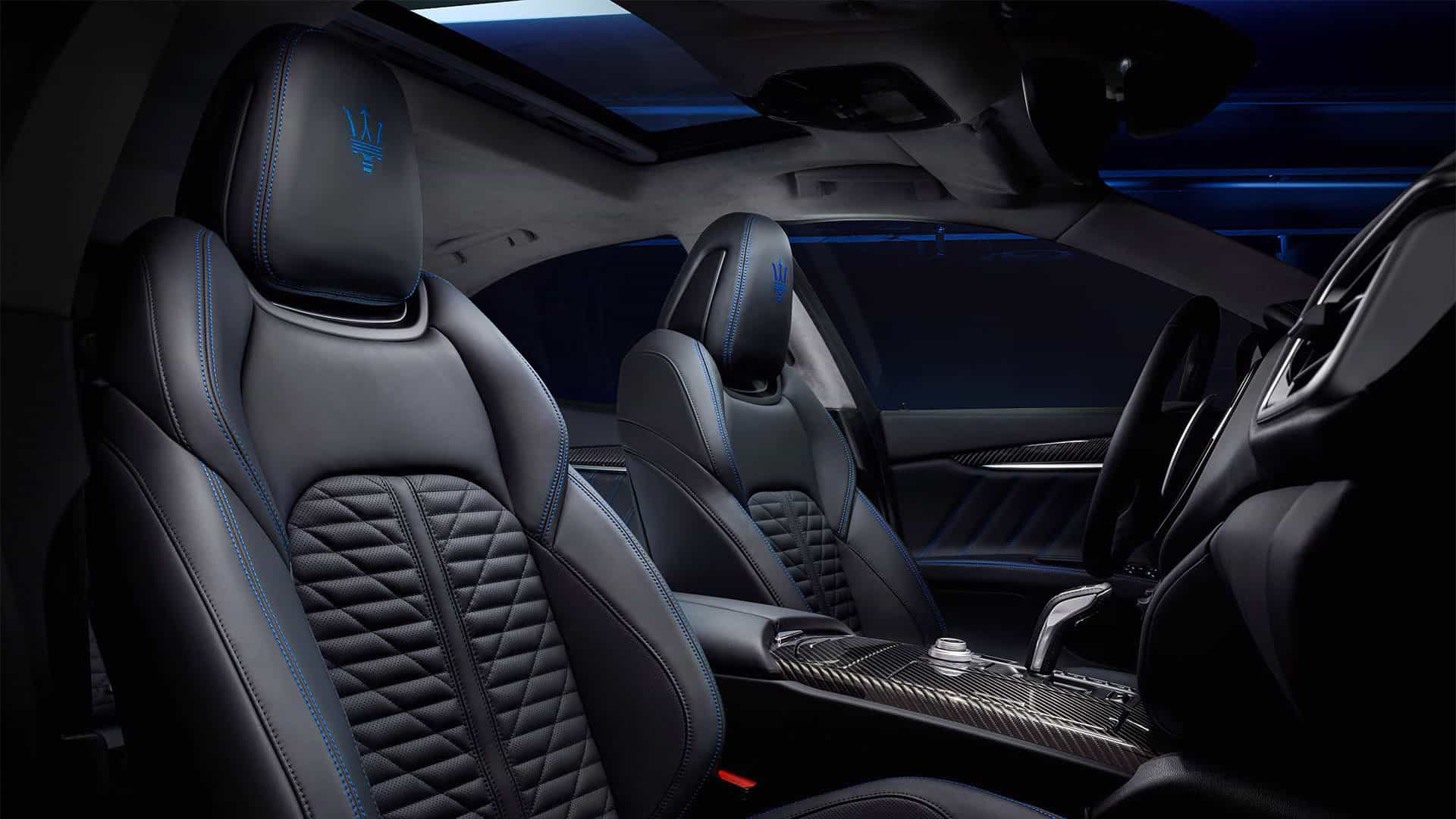 Inside, the Ghibli presents you with the expressed need to travel-in luxury and with seemingly unlimited power underfoot. In traditional Italian style, the cabin features handcrafted trim finishes with   leather-covered curves, including available Pieno Fiore natural leather from hides that are free of bug bites and other imperfections. A technically pure dashboard with a traditional Maserati Clock holds sway with the 8.4-inch touchscreen infotainment system and its center console-mounted rotary control. Finally, the driver's instrument panel is complete with a 7-inch TFT display screen mounted between the large speedometer and tachometer.And if the roar from the Maserati Powertrain-designed and  Ferrari-Built engines and 280-watt eight speaker audio system are not enough, you can take advantage of the 900-watt, 10-speaker Harman/Kardon Audio System or the 15-speaker, 1,280-watt  15-speaker Bowers & Wilkins Ultra-Premium sound system. Alternatively, sound can be streamed directly via Android Auto or Apple CarPlay.
When all is said and done, the Maserati Ghibli is the brand's triumphant reentry into the mid-sized executive luxury car segment that it had abandoned for more than two decades. Built at the Giovanni Agnelli Plant near Turin, Italy, it utilizes the same suspension as the larger Quattroporte, including the optional "Skyhook" adjustable air suspension that adapts to varying road conditions.

Our
St. Louis luxury car
experts are well versed in the new 2021 Maserati Ghibli. Browse our inventory or stop by to let them assist you in ordering the Maserati Ghibli of your dreams, today
Interested In Lease, Finance, New or Used Maserati Ghibli For Sale? We Can Help!

We offer a wide range of solutions for drivers shopping for a Maserati Ghibli for sale. Whether you're looking for a new or used Maserati Ghibli for sale, we're sure to have the best cars for you. Get started finding your new Maserati Ghibli for sale with our choices below:

For 2021, the new Maserati Ghibli comes in four trims- Trofeo, SQ4, S, and a highly competitive base model. Intuitively designed, the 2021 Ghibli offers extreme performance, state-of-the-art technology, responsive safety features, and world-class Italian luxury. 
If you're looking for the best way to make your next drive count, buy a new 2021 Maserati Ghibli for sale. At the entry-level, the 2021 Ghibli harnesses the power of a 345 horsepower 3.0L Twin-Turbocharged V6 engine that churns out 369 lb.-ft. of torque. Further up the line, the 2021 Ghibli S houses a 424 horsepower 3.0L Twin-Turbocharged V6 engine and 428 lb.-ft of torque. Next up is the AWD Maserati Ghibli SQ4 for sale powered by a 3.0L Twin-Turbocharged V6 engine with 424 horsepower on demand. Last but not least, the new 2021 Ghibli Trofeo for sale comes standard with a 580 horsepower V8 engine that generates 538 lb.-ft. of torque. Additional performance features include: 
Limited-Slip Differential

Drive Modes: Normal, Sport, Off-Road and I.C.E. (Increased Control & Efficiency)

Electric Power Steering 

Skyhook performance suspension with electronic damping control on GranSport models 

Q4 intelligent all-wheel drive on Ghibli S Q4 
Find My New Maserati Ghili For Sale  >>
When it comes down to luxury used cars for sale, used Maserati Ghiblis are spectacular pre-owned vehicles. The (M157) Ghibli has an amazing history that dates back to 2013 and goes up to 2018,2019, 2020, and 2021. To see and drive all of your favorite pre-owned Maserati Ghibli's on sale, browse our used car inventory online: 
Want to lease a new Maserati Ghibli for sale? No problem. Visit our St. Louis Maserati lease center. We can help you start leasing your new Maserati Ghibli for sale, today. We offer wealth of benefits and solutions for drivers interested in leasing a new Maserati Ghibli for sale. And the best part is we can tailor all of them to fit your lifestyle and preference.

Financing a new Maserati Ghibli for sale near St. Louis? Great choice! Save time and money with our new Maserati finance options. Get pre-qualifed online for a new Maserati Ghibli for sale with our online finance application. Estimate your interest rates and car payments with our
Maserati car payment calculator
. Get the best support and rates for your new Maserait Ghibli for sale near St. Louis, MO.